Bitcoin Breaking Out this Morning!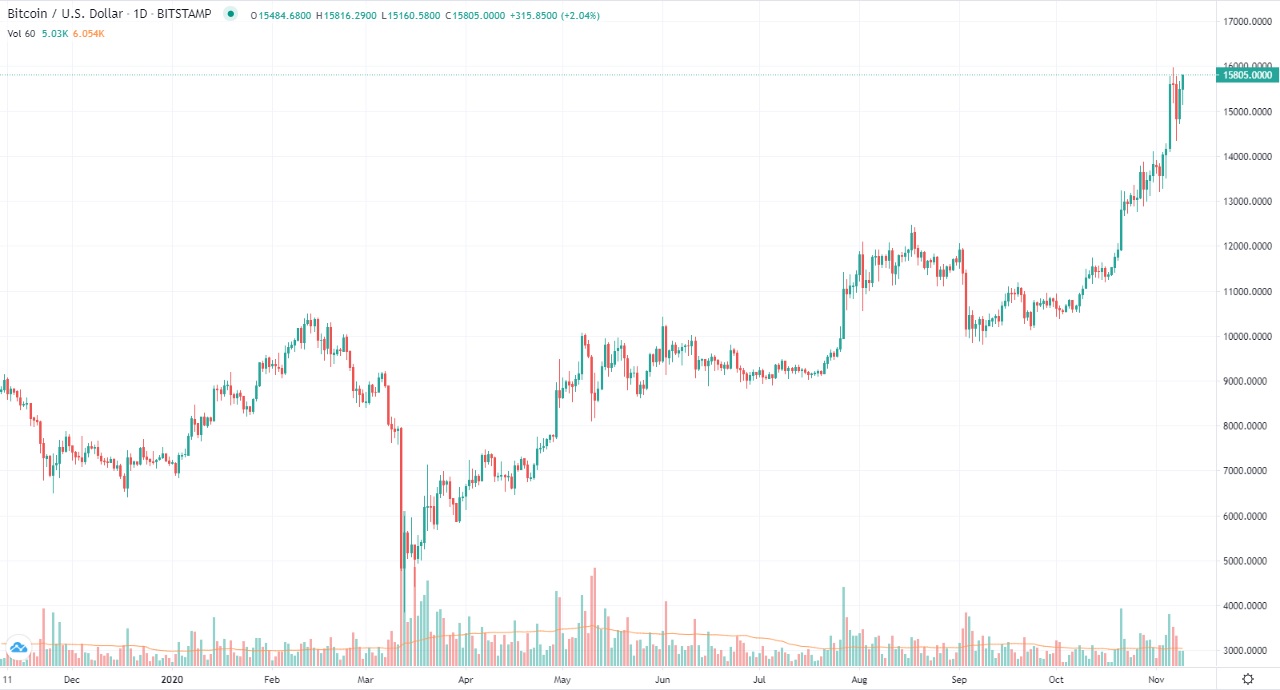 Bitcoin is breaking out big this morning and is currently up by $315.85 to $15,805!
NIA's #1 favorite Bitcoin stock suggestion Voyager Digital (CSE: VYGR) or VYGVF on the U.S. OTCQB has been gaining momentum in recent days and closed Friday at its high of day/high of week of $1.23 per share. VYGR confirmed in its Friday morning press release that the company will be bringing a debit card and more traditional bank products to the market in early 2021. This will be a game changer for the company because it will allow VYGR to begin capturing the same market as Chime the world's #1 most valuable fintech unicorn.
Over the last ten months, VYGR's assets under management have grown by 1,900% to more than US$100 million! VYGR's exponential revenue growth has been accelerating in recent months! VYGR's fiscal 1Q 2021 financial results will be released later this month and will likely show approximately US$2 million in revenue for the quarter ending September 30th vs. US$700,000 in revenue during the prior quarter ending June 30th for quarter-over-quarter growth of 185%. In comparison, VYGR's fiscal 4Q 2020 revenue of US$700,000 grew quarter-over-quarter by 148% from US$282,078 in revenue during the prior quarter ending March 31st.
Many new investors will learn about VYGR for the first time on Tuesday at 5:15PMEST when VYGR CEO Stephen Ehrlich speaks at the Benzinga Global FinTech Awards where he will discuss Voyager's growth and future prospects. Currently, on the homepage of the Benzinga Global FinTech Awards web site is the Leaderboard for the People's Choice Award and as of right now VYGR is in 1st place!
Past performance is not an indicator of future returns. NIA is not an investment advisor and does not provide investment advice. Always do your own research and make your own investment decisions. This message is not a solicitation or recommendation to buy, sell, or hold securities. NIA has received total compensation from VYGR of USD$60,000 cash for a one-year marketing contract. This message is meant for informational and educational purposes only and does not provide investment advice.