NIA Announces Official #1 California Cannabis Stock Suggestion
NIA is excited to officially announce its #1 California Cannabis Stock Suggestion for the second half of 2019:
Next Green Wave (OTCQX: NXGWF)
Currently: $0.276 per share
Shares Outstanding: 132.462 million
Market Cap: $36.56 million
(All amounts expressed in USD)
NXGWF is the most innovative and technologically advanced vertically integrated cannabis company in all of California. NXGWF owns 7 lots of cannabis zoned land totaling 15 acres located in Coalinga, California that it purchased at a cost of $3.958 million. Coalinga is centrally located in between Los Angeles and San Francisco and just a 3 hour drive from both cities.
In April 2019, NXGWF completed the construction on its Coalinga property of a 35,000 sq ft advanced, state-of-the-art, indoor cannabis production facility at a cost of $9.1 million. NXGWF's total investment of $13.058 million to purchase the land and build the facility was funded with the proceeds of private placements without any debt issuance. NXGWF's facility consists of 14 grow rooms with 50 lights and utilizes NXGWF's state-of-the-art proprietary climate control and watering system.
On April 8, 2019, Pacific Gas & Electric successfully completed the electrical installation and connection to the transformer thereby providing power to NXGWF's facility and the entire cannabis zoned development property it is situated on.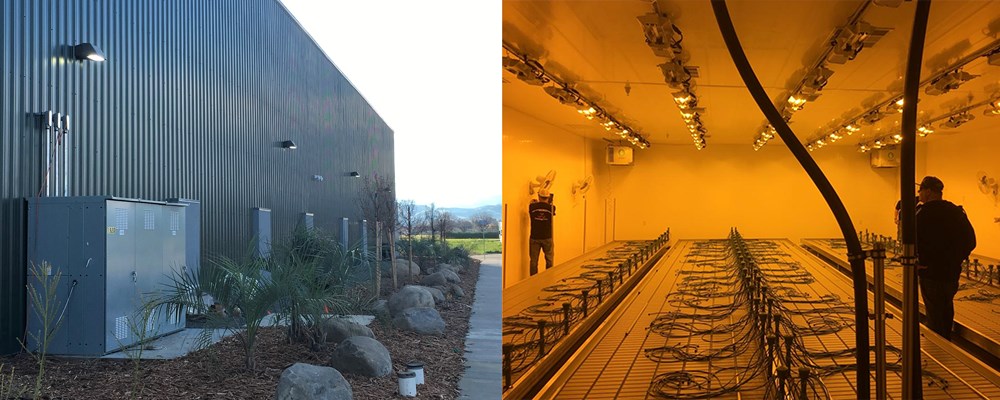 Back on January 15, 2019, NXGWF entered into a strategic licensing agreement to utilize Intrexon (XON)'s Botticelli™ next generation plant propagation platform to enable rapid production of NXGWF's proprietary cannabis cultivars for the California market. Currently, cloning is the most common form of cannabis cultivation used in California, a process that is labor intensive, costly, and not sustainable due to the risk of disease susceptibility. In addition, plants derived from repeated cuttings lose vigor in performance.
XON's Botticelli™ platform is an advanced tissue culture technology designed to enable efficient propagation of plants while maintaining genetic purity and product performance, thereby offering a more sustainable, scalable, and economical solution than conventional cloning. XON is a NASDAQ listed company that went public back on August 8, 2013 raising $160 million in its IPO. Yesterday, XON was one of the NASDAQ's largest percentage gainers after rising by $0.45 or 8.11% to close at $6 per share. In pre-market trading this morning, XON is up another $0.45 or 7.5% to $6.45 per share causing its market cap to surpass $1 BILLION!
With XON beginning to explode, we expect NXGWF to make a major move higher in the days ahead! NXGWF is insanely undervalued at $0.276 per share at its current market cap of only $36.56 million! After NXGWF's deal with XON was first announced back on January 15th, NXGWF gained as much as 40% to a record high of $0.625 per share in a single day on 4X higher than average volume! XON also rallied big immediately after the news, rising by $0.37 or 4.71% to $8.23 per share on January 15th and reaching a high on January 18th of $9.10 per share for a total gain of $1.24 or 15.78% in four days on HUGE volume of 10.733 million shares! NXGWF's announcement with XON caused the market cap of XON to rise by $198.42 MILLION to a 2019 peak of $1.456 BILLION!
By utilizing XON's Botticelli™ plant propagation technology, NXGWF is developing a world-class cannabis nursery business, which will allow for the development of hybrid cannabis strains and direct sale of seeds, seedlings and world-class clones to retail and wholesale clients! NXGWF's cannabis nursery will be led by its COO and six-time High Times Cannabis Cup winner, Michael Jennings, who previously co-founded Loud Seeds, LLC, an internationally-renowned breeder of premium cannabis flower and seeds, which developed a vast collection of strains and worked with some of the finest cultivators in the world, winning the High Times Cannabis Cup six times since 2012, being inducted into High Times' Seedbank Hall of Fame in 2014, and named one of High Time's 100 Most Influential Breeders in California. NXGWF has successfully acquired the entire genetics inventory of Jennings, which added an additional 112 cultivars to its existing portfolio. Jennings as the leader of NXGWF's Research & Innovation division will be using NXGWF's industry leading portfolio of cannabis strains to develop new premium cannabis hybrids with desired traits for both the medicinal and recreational California cannabis markets!
On March 22, 2019, NXGWF begun the optimization phase of its strategic licensing agreement with XON to utilize its Botticelli™ next generation plant propagation platform. XON has begun calibrating its Botticelli™ technology to NXGWF's specific cannabis cultivars, which will enable the rapid production of NXGWF's proprietary cannabis cultivars to be used for NXGWF's downstream branded products targeting the California market. In addition, it will allow NXGWF to produce pathogen free, consistent premium plantlets for sale to third-party cultivators, nurseries, and dispensaries!
Although XON will be entitled to royalties on NXGWF's own plantlet usage as well as a 50% share of NXGWF's revenues derived from third-party sales, it is important to realize that XON could have chosen to work with a multi-billion dollar California cannabis giant if it wanted to! Literally every company in the California cannabis market wanted to use XON's technology! The entire industry is envious of NXGWF's relationship with XON and NIA is going to prove it in an alert at 2PMEDT today! We will explain in detail at 2PMEDT today why NXGWF deserves a minimum market cap of $100 million due to its XON relationship alone! Also at 2PMEDT, we will provide complete details about every one of NXGWF's California focused cannabis brands, which puts NXGWF in a better position than any other publicly traded company in the California cannabis industry! NIA's last two official #1 California cannabis stock suggestions became massive gainers and we are confident that NXGWF is about to become one!
Past performance is not an indicator of future returns. NIA is not an investment advisor and does not provide investment advice. Always do your own research and make your own investment decisions. This message is not a solicitation or recommendation to buy, sell, or hold securities. NIA has received compensation from NXGWF of USD$60,000 cash for a two-month marketing contract. Never make investment decisions based on anything NIA says. This message is meant for informational and educational purposes only and does not provide investment advice.