NPR Gains Another 13.58% to Close at $0.92 per share!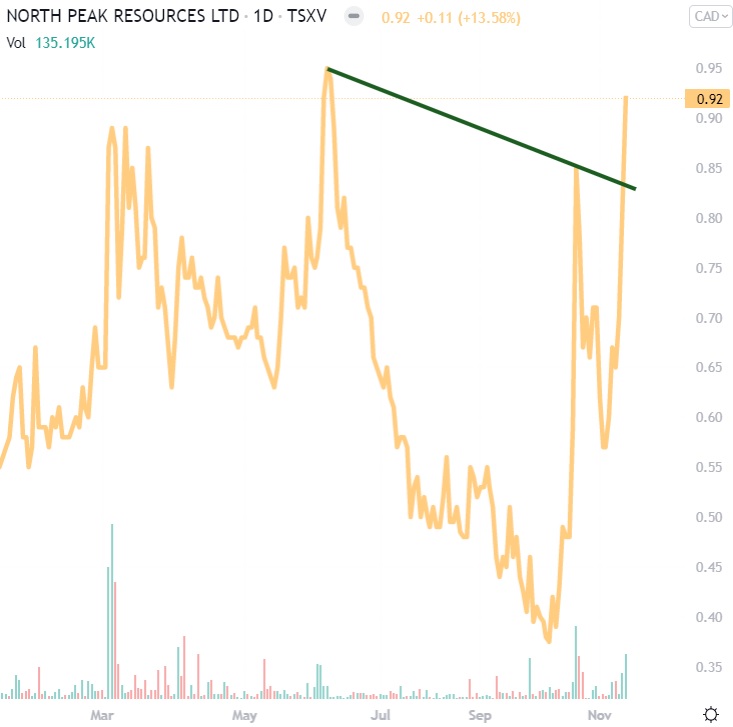 North Peak Resources (TSXV: NPR) gained another 13.58% today to close at $0.92 per share on strong volume! NPR's market cap is still only CAD$18.4 million (US$14.6 million) and NPR has a cash position of CAD$7.024 million (US$5.58 million) with no debt giving it an enterprise value of only CAD$11.376 million (US$9.03 million).
To get a good idea of what will happen to NPR's share price immediately after the definitive agreement for the Black Horse Gold Project in Nevada is signed, take a look at the HUGE upward move Big Ridge Gold (TSXV: BRAU) made beginning on June 8th when it finalized an earn-in agreement with First Mining Gold (TSX: FF) to become the operator of and begin exploring FF's Hope Brook Gold Project in Newfoundland. BRAU closed on June 7th at $0.185 per share but exploded by 51.35% to $0.28 per share on June 8th when it was announced that the deal was finalized. Today, BRAU is trading for $0.405 per share with a market cap of CAD$43 million.
A market cap of CAD$43 million for NPR will value it at $2.15 per share, which is probably a worst-case scenario for where NPR will immediately trade as soon as the definitive agreement is signed. The reality is, Black Horse is a much higher quality gold project than Hope Brook, and NPR will rapidly rise to a market cap that far exceeds BRAU. Nevada currently produces 275X more gold per year than Newfoundland. The Nevada Black Horse Gold Project is likely to have initial CAPEX of only a small fraction of Hope Brook. NIA looks for NPR to rapidly rise to a market cap of CAD$60 million within days of the definitive agreement being signed, which would initially value NPR at $3 per share. After NPR starts drilling Black Horse for the first time in 24 years and NPR immediately begins intersecting near-surface, high-grade gold - we look for NPR to quickly form a base in the $5-$6 per share range before advancing into double digits when gold hits a new all-time high.
We expect NPR to raise all future financing for Black Horse at prices of $5 per share or higher and for NPR to make additional acquisitions once it is trading comfortably above $5 per share. NPR's management team is 100% committed to building NPR into their next Kirkland Lake Gold (KL) and Rupert Resources (TSXV: RUP).
Past performance is not an indicator of future returns. NIA is not an investment advisor and does not provide investment advice. Always do your own research and make your own investment decisions. This message is not a solicitation or recommendation to buy, sell, or hold securities. NIA's President has purchased 200,000 shares of NPR in the open market. NIA has received compensation from FF of USD$50,000 cash for a six-month marketing contract. This message is meant for informational and educational purposes only and does not provide investment advice.