TGIFF to Dominate Las Vegas Cannabis Market
NIA is excited to announce 1933 Industries (TGIFF) as its #1 way to capitalize on the Las Vegas cannabis/CBD boom! TGIFF has potential to make the largest short, medium, and long-term gains in the entire cannabis/CBD industry! We are giving it a very high confidence rating of 95 out of 100. TGIFF currently has its products being sold in 60 or 87% of Nevada's 69 total cannabis dispensaries!
About one year ago, NIA predicted that we would see a HUGE boom in Canadian CBD-infused beverage companies and announced Koios Beverage (CSE: KBEV) as its #1 favorite Canadian CBD-infused beverage play. In September 2018, KBEV exploded from $0.20 per share to a high of $1.05 per share for a gain of 425% in only three weeks, making it the #1 largest gaining stock in any industry on any North American exchange during this time period!
After calling a top for Canadian cannabis/CBD companies in October 2018, NIA predicted in March 2019 that California cannabis/CBD stocks would become the #1 hottest plays in the market and announced Transcanna (CSE: TCAN) on March 8th at $3 per share as its #1 favorite California cannabis/CBD stock suggestion. Over the following seven weeks, TCAN exploded to a high of $7.79 per share for a gain of 159.67% making it the #1 largest gaining California cannabis/CBD stock and #2 largest gaining overall cannabis/CBD stock during this time period. NIA almost perfectly called TCAN's exact top on the morning of April 25th at $7.43 per share by saying only hours prior to TCAN peaking, "It won't hurt to begin taking profits immediately because at some point a major correction will occur!"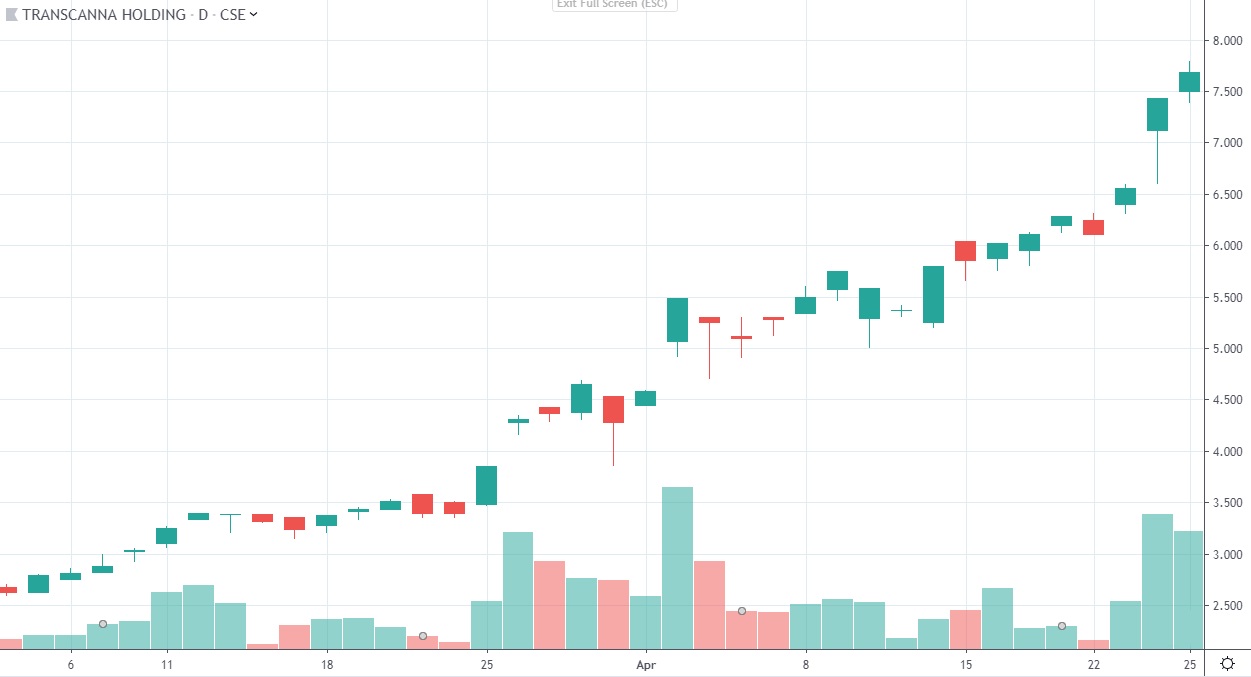 TGIFF is a Las Vegas based vertically integrated, brand-focused cannabis/CBD company. TGIFF's 91% owned Alternative Medicine Association (AMA) was the very first licensed cultivator to sell cannabis in Las Vegas and has become one of Nevada's most well-known cannabis brands. AMA also produces other well-known cannabis brands such as Gotti's Gold, Kurupt's Moonrocks, and Denver Dab Co. under licensing agreements. It even has an exclusive license with OG DNA Genetics, Inc. a globally recognized leading cannabis brand, to cultivate, manufacture, sell and distribute co-branded cannabis products in the State of Nevada.
AMA has the LARGEST cannabis-concentrate market share in Nevada with many different types of concentrate products: shatter, crumble, batter, sugar wax, and diamonds. AMA also produces multiple flavors of THC distillate oil of pure decarboxylated and distilled THC sap. Cannabis oil distillates are considered the future of cannabis concentrates with a value that is worth more by weight than just about any other consumable substance on earth! AMA's THC distillate oils leave consumers feeling elated and euphoric!
TGIFF's 100% owned Infused MFG produces proprietary hemp-based, CBD-infused wellness products that it markets under the well-known Canna Hemp, Canna Hemp X, and Canna Fused brands. TGIFF has been rapidly growing NATIONWIDE distribution channels for Canna Hemp, with Canna Hemp products now sold in over 800 outlets across 46 US states! TGIFF has also built major online sales of its CBD products at CannaHemp.com and CannaHempX.com!
According to Google Trends, searches in the U.S. for Canna Hemp have been soaring every month and just reached a new all-time high this month! NIA believes that TGIFF has built Canna Hemp into America's #1 strongest CBD brand that will fuel rapid revenue growth for TGIFF to last for many years to come! Right now, most interest in Canna Hemp is coming from Nevada, but there is also rapidly growing interest in Canna Hemp coming from Arizona, California, Wisconsin, and Texas!
TGIFF's Canna Hemp product line is large and well-diversified with the company producing and marketing the following Canna Hemp products: CBD Elixirs, CBD Vape Pens, CBD Vape Cartridges, CBD Capsules, CBD Dabs, CBD Lip Balms, CBD Body Lotions, and CBD Relief Cream. TGIFF produces six unique proprietary blends of each CBD product: Calm, Euphoria, Focus, Relief, Sleep, and Naturals.
TGIFF's Canna Hemp X produces all-natural CBD products for on-the-go extreme/action sports athletes. To break into the extreme/action sports marketplace in a BIG way, TGIFF has signed an exclusive licensing agreement with the Babe Ruth of skateboarding, Tony Hawk! TGIFF will be working with Tony Hawk to launch co-branded CBD and hemp recovery products under the names Birdhouse Skateboards, Canna Hemp X and Canna Hemp!
TGIFF announced yesterday that it has commenced the transfer of its cannabis plants to its brand new cultivation facility in Las Vegas that will allow it to cultivate 5X the amount of cannabis flower than previously produced to meet the HUGE rapidly growing demand for its branded flower and concentrate products. This will allow TGIFF to greatly improve its margins in the upcoming quarters!
TGIFF's newly opened state-of-the-art cultivation facility is 67,750 sq ft or more than 5X larger than its existing 12,000 sq ft facility! TGIFF will soon be launching one of Nevada's largest hemp extraction facilities with a custom-built ethanol extraction system that provides the ability to isolate CBD, THC and several other cannabinoids, including oils. In TGIFF's original facility, the company will be making tenant improvements to increase its concentrate production area from 483 sq. ft. to 2,215 sq. ft. TGIFF announced last month that its distillate production capacity will increase from 40 litres per month to 80 litres per month, in order to secure the supply for its branded products as well as for its white label partners. Click here to see for yourself!
TGIFF in its fiscal 3Q 2019 ending April 30, 2019 generated revenue of CAD$4.6 million for growth of 23.55% on a quarter-to-quarter basis and growth of 39.55% on a year-over-year basis! TGIFF has 281,509,693 shares outstanding for a current market cap at $0.27 per share of only USD$76 million or CAD$101 million.
TGIFF is now generating revenue at a run rate of CAD$18.4 million and is trading at an extremely undervalued 5.5X its revenue run rate! The median cannabis stock is currently trading with a market cap of 14.9X its latest revenue run rate! Only one cannabis company, CannTrust (TSX: TRST) is trading at a lower multiple of 5.4X its revenue run rate, but TGIFF deserves a much higher multiple than TRST because TGIFF's quarter-to-quarter revenue growth last quarter of 23.55% was 5.54X higher than TRST's quarter-to-quarter revenue growth rate of 4.25%!
The industry median quarter-to-quarter revenue growth rate last quarter was 21.96%. Considering that TGIFF successfully surpassed the industry median growth rate, it certainly deserves to at least be trading at a valuation equal to the industry median multiple of 14.9X its latest revenue run rate of CAD$18.4 million, which would value TGIFF at USD$206.5 million or CAD$274.16 million. To reach this valuation, TGIFF would need to rise by 170.37% to $0.73 per share! We see little/no downside at $0.27 per share! TGIFF is the only cannabis stock that appears to be extremely undervalued!
NIA expects Las Vegas to become the cannabis capital of the world after cannabis lounges get approved, most likely by mid-2021! TGIFF is well positioned to dominate what will undoubtedly be the hottest cannabis market for many years to come!
Past performance is not an indicator of future returns. NIA is not an investment advisor and does not provide investment advice. Always do your own research and make your own investment decisions. This message is not a solicitation or recommendation to buy, sell, or hold securities. NIA has received compensation from TGIFF of USD$30,000 cash for a six-month marketing contract. Never make investment decisions based on anything NIA says. This message is meant for informational and educational purposes only and does not provide investment advice.