VYGR Closes at High of Day After Bottoming!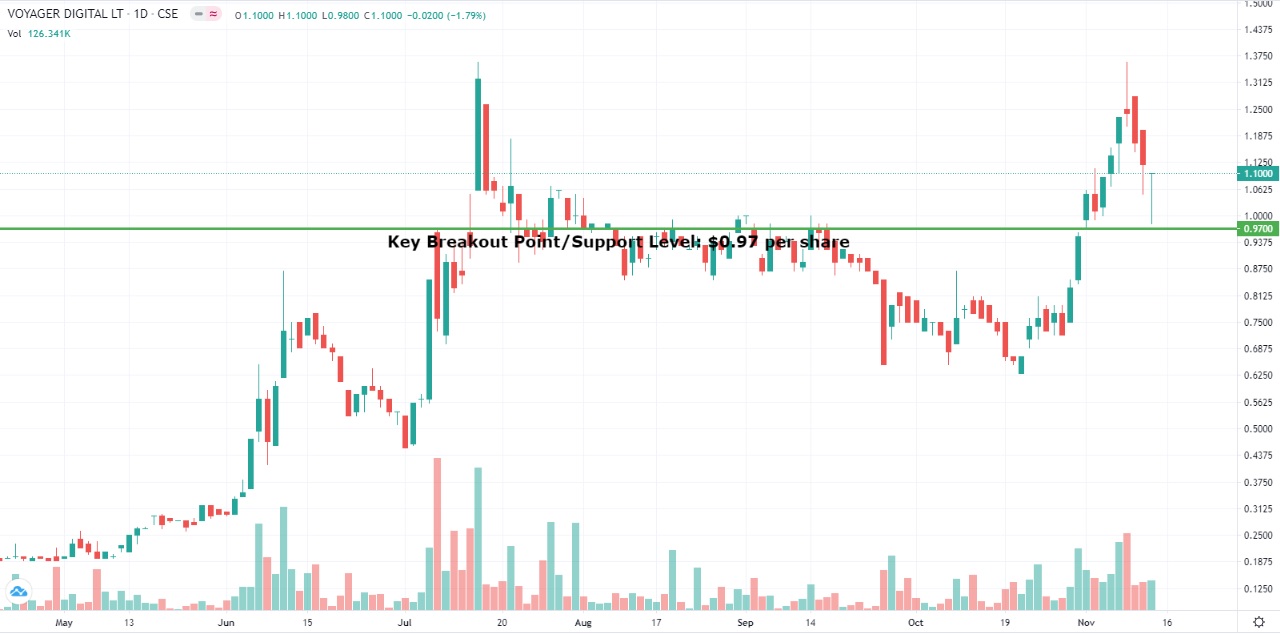 At 10AMEST this morning, NIA sent out an alert with Voyager Digital (CSE: VYGR) trading at $1.03 per share, predicting that it would bottom today at $0.97 per share and bounce big immediately afterwards. Three hours later at 1PMEST, NIA sent out a follow-up alert explaining how VYGR hit a low at 12:24PMEST of $0.98 per share and had already bounced back to $1.01 per share. With VYGR bouncing at almost the exact price that NIA predicted would be its key support level, NIA said in its 1PMEST alert that the "bottom is now in".
NIA was 100% right! In the final three hours of trading, VYGR bounced by 8.91% to close at $1.10 per share! At VYGR's low of day of $0.98 per share, it was briefly down by 12.5% from yesterday's close of $1.12 per share, but after bouncing by 12.25% from its bottom VYGR closed down by only 1.79%. VYGR not only has upward momentum going into tomorrow but the profit takers are already gone!
When VYGR returns to its new key breakout point of $1.36 per share it will have one of the best technical analysis setups that we can imagine.
VYGR's current 14-day relative strength index (RSI) at $1.10 per share is a healthy 61.37. To put this into perspective, when NIA suggested VYGR on October 30th at $0.89 per share and it finished that day at $0.95 per share, it closed with a 14-day RSI of 64.10. For VYGR to close today at $1.10 per share or 15.79% above its October 30th closing price of $0.95 per share, and have a 14-day RSI that is significantly below what it was on October 30th, shows that VYGR has room to move meaningfully higher without becoming overbought!
Past performance is not an indicator of future returns. NIA is not an investment advisor and does not provide investment advice. Always do your own research and make your own investment decisions. This message is not a solicitation or recommendation to buy, sell, or hold securities. NIA has received total compensation from VYGR of USD$60,000 cash for a one-year marketing contract. This message is meant for informational and educational purposes only and does not provide investment advice.