WRLD Set to Explode on Tuesday After Surpassing its Key Breakout Point!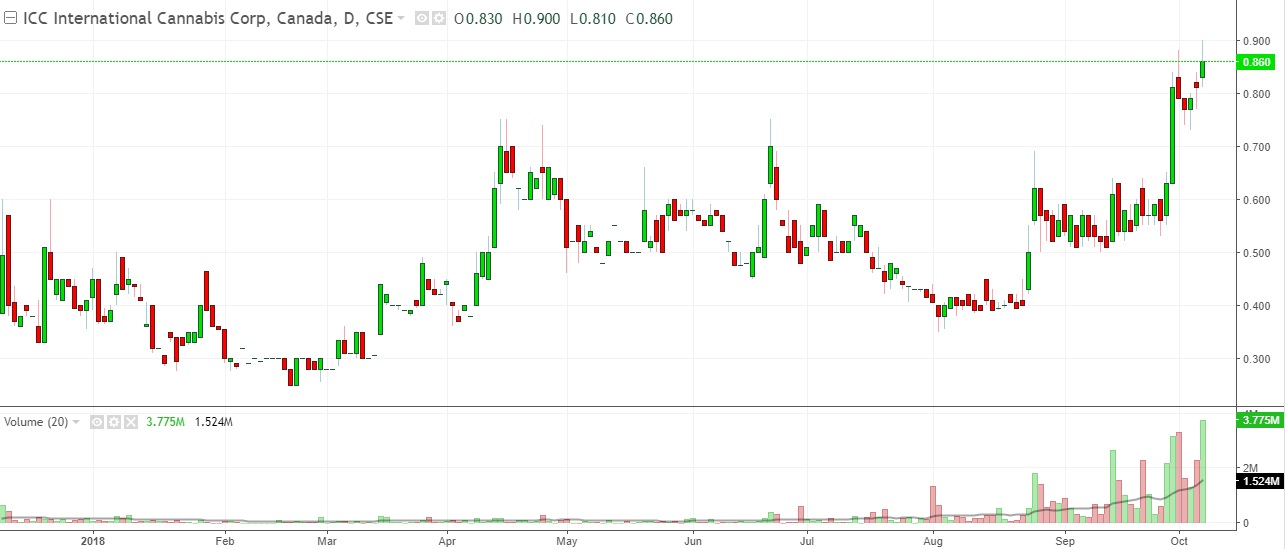 The Canadian markets are closed today for Canada's Thanksgiving Holiday. We believe International Cannabis Corp (CSE: WRLD) could be set to explode when their markets reopen on Tuesday after it successfully surpassed its key breakout point on Friday afternoon!
After announcing WRLD on Thursday morning at $0.79 per share as our #1 pick to become the next Canopy Growth (CGC), NIA sent out a detailed alert on Friday morning informing its members about how WRLD had a key breakout point of $0.87 per share. NIA predicted that after WRLD surpasses its key breakout point of $0.87 per share it would rapidly explode to well above of $1 per share.
On Friday afternoon, WRLD successfully surpassed its key breakout point of $0.87 per share and immediately exploded to a new all-time high of $0.90 per share on record volume of 3,774,659 shares! Although WRLD dipped in the final few minutes of Friday's trading day to finish at a record closing price of $0.86 per share, its resistance is now gone and we could easily see WRLD breakout above $0.90 in the first hour of trading tomorrow and rapidly explode to well above $1 per share!
WRLD currently has the #1 best looking chart in the entire cannabis industry. WRLD is undoubtedly the #1 best positioned company set to capitalize most on the upcoming European, African, and Latin American cannabis booms. At some point in the near future after cannabis becomes officially legalized in Canada on October 17th, we expect investors to take profits on the largest Canadian cannabis plays like Canopy Growth (CGC), Tilray (TLRY), and Aurora Cannabis (TSX: ACB) for the purpose of loading up on the biggest international cannabis plays and there is no bigger international cannabis opportunity than WRLD!
WRLD has been rapidly acquiring companies with licences to cultivate, produce, hold, sell, and export cannabis in all of the same global jurisdictions being targeted by the largest multi-billion dollar cannabis giants like CGC, TLRY, and ACB. However, most of the market cap being given to CGC, TLRY, and ACB is for their Canadian operations and as Canadian cannabis plays experience short-term profit taking after legalization occurs on October 17th - CGC, TLRY, and ACB are likely to temporarily decline in value while WRLD simutaneously becomes the next billion dollar global cannabis company!
WRLD is the #1 pure play in the international cannabis market. The new company led by CGC's founder Chuck Rifici, Auxly Cannabis (TSX Venture: XLY), just invested $5 million into WRLD on September 17th as their way to expand internationally! If Chuck Rifici decides to have XLY acquire WRLD, it would immediately give them an international presence on par with CGC!
For many mid-tier cannabis growers with market caps of between $500 million and $1 billion, WRLD would be the perfect fit and perhaps the only viable option for them to quickly compete with CGC, TLRY, and ACB on a global scale. It is already too late for a mid-tier cannabis grower to obtain all of the major global cannabis licences held by WRLD on their own. Why spend hundreds of millions of dollars over years todo so if by the time the licences are obtained, companies like CGC, TLRY, and ACB will have already captured the entire market!?
At some point in the upcoming days/weeks we expect to see WRLD receive their Greek medicinal cannabis licence. WRLD already controls a 13-acre land package situated in Northern Greece, which upon receipt of the medicinal cannabis licence will be dedicated to medical grade cannabis cultivation, extraction, distribution, as well as research and development. If WRLD announces that they have received their Greek medicinal cannabis licence, we could see WRLD begin to trade 5-10 million shares per day with its market cap immediately rising to $300-$500 million.
Already, WRLD controls 1 of only 12 highly coveted licences for cannabis cultivation in the Kingdom of Denmark. Most of the 11 other companies holding cannabis cultivation licences in Denmark, already have market caps exceeding $1 billion!
Past performance is not an indicator of future returns. NIA is not an investment advisor and does not provide investment advice. Always do your own research and make your own investment decisions. This message is not a solicitation or recommendation to buy, sell, or hold securities. NIA has received compensation from WRLD of $70,000 cash for two 15-day investor relations contracts. Never make investment decisions based on anything NIA says. This message is meant for informational and educational purposes only and does not provide investment advice.