Currently, NIA's #1 focus is discovering the biggest ground-floor opportunities with the most upside potential in the cannabis sector. Most recently, on March 8th at 3:45PMEDT, NIA suggested Transcanna (CSE: TCAN) at $3 per share as its #1 cannabis stock suggestion. In NIA's initial alert, we discussed how TCAN had just surpassed its key breakout point of $2.90 per share in a convincing manner - after previously failing to break the $2.90 per share level despite many attempts. NIA predicted that TCAN was ready to explode beginning the following week and had potential to become the #1 cannabis play in the entire market!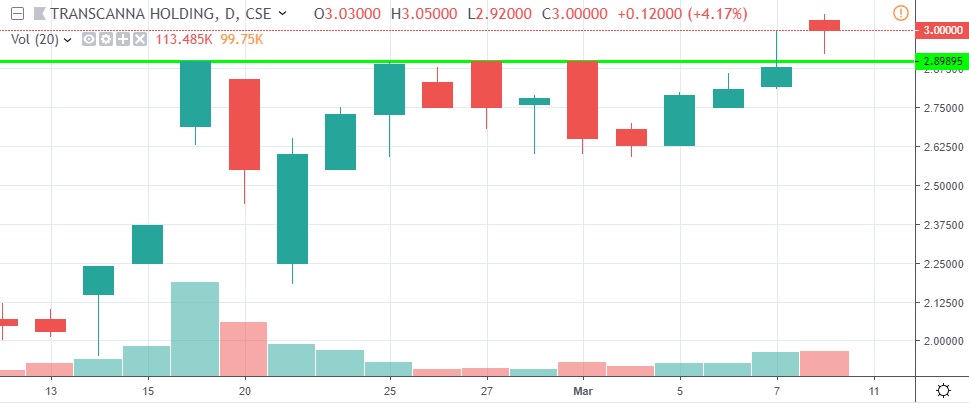 NIA made it 100% clear that it considered TCAN to be the #1 momentum play in the market, despite the fact that TCAN's momentum was only just beginning. NIA believed that TCAN's biggest run in history was imminent. NIA knew that TCAN was the biggest undiscovered cannabis gem in the entire market, but that this would change very quickly - predicting that word would begin to spread rapidly as soon as that upcoming weekend, causing TCAN to possibly begin a major move higher on Monday/Tuesday of the following week!
After rallying into the close on Friday, March 8th to finish the week at $3.04 per share, NIA posted a follow-up on the morning of Monday, March 11th, discussing why it believed California focused cannabis stocks would lead the cannabis industry in 2019 - similar to how Canadian focused cannabis stocks were the 2018 industry leaders. NIA mentioned Acreage Holdings (CSE: ACRG) as the other California focused cannabis company that it was most closely following, due to former Speaker of the House John Boehner recently joining its Board of Directors - a very positive sign that Federal legalization of cannabis is coming soon!
Unsurprisingly, TCAN gapped up to open Monday, March 11th at $3.10 per share. Luckily, TCAN quickly filled in the gap seven minutes into the day with a brief dip to $3.05 per share, before rallying big for the rest of the day to finish up $0.21 or 6.91% to $3.25 per share on HUGE volume of 247,150 shares, quadruple TCAN's average volume for the previous 10 trading days!
Early the following morning, NIA's President alerted his 336,000 Instagram followers about TCAN by posting an Instastory video that called TCAN his #1 cannabis pick for 2019 and featured TCAN's extremely bullish chart. TCAN once again gapped up big by opening Tuesday, March 12th at $3.34 per share (its low of the day) and rallying big to close at $3.40 per share (its high of the day). After closing Tuesday, March 12th with a large gain of $0.15 or 4.62% and finishing at $3.40 per share on HUGE volume of 277,160 shares (nearly 4 1/2 times its average volume) TCAN was already up by $0.40 or 13.33% from NIA's initial suggestion price of $3 per share!
On Wednesday, March 13th, TCAN made a very healthy dip of $0.20 to a low of $3.20 per share, thereby filling in the previous morning's gap up. Amazingly, TCAN finished the day down only $0.01 to $3.39 per share. This incredible strength was a very bullish sign of things to come. During the first three full days of trading following NIA's suggestion, TCAN traded a total of $2.42 million in dollar volume - its highest three-day dollar volume in history (at that time)!
TCAN had some minor resistance at $3.40 per share and NIA alerted its members to when TCAN finally broke through it on March 21st to reach a new all-time high of $3.58 per share.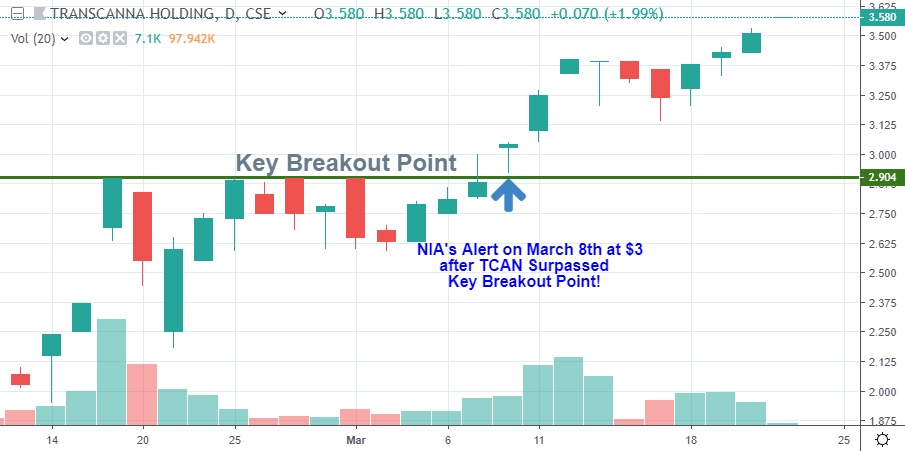 Over the following week, TCAN exploded by $1.29 or 37.94% to a new all-time high of $4.69 per share! This explosive move occurred on record five-day volume of 1,436,120 shares!
Early on April 2nd, NIA alerted its members to a HUGE imminent catalyst that was ahead for TCAN on April 4th. TCAN was set to close on a $16 million private placement, which was oversubscribed by a massive $6 million or 60% from TCAN's initially announced private placement of $10 million. In addition, NIA's President alerted his 336,000 Instagram followers about this unbelievably HUGE catalyst in a pair of Instastory videos, expressing his belief that new all-time highs for TCAN were ahead!
TCAN gapped up by $0.49 or 10.7% to open April 2nd at $5.07 per share, before rallying throughout the day and finishing the day up by $0.91 or 19.87% to a new all-time high of $5.49 per share on record volume of 703,470 shares!
Shortly after midnight on the morning of April 18th, NIA alerted its members to HUGE breaking news of Canopy Growth (CGC) signing a deal to acquire ACRG for $3.4 BILLION - in the largest cannabis deal in U.S. history. This deal 100% confirms NIA's prediction that the California cannabis market will be the biggest boom industry of 2019! NIA explained why it believed TCAN was now worth more than it originally anticipated - with NIA predicting that TCAN could potentially rise as high as $9.19 per share before peaking.
TCAN closed April 18th up to a new all-time high of $6.28 per share for a gain of 109.33% from NIA's March 8th suggestion at $3 per share. Between March 8th and April 18th, TCAN was the #3 best performing cannabis stock in the world!
NIA was right that TCAN still had more upside left! Over the following three trading days, TCAN gained by $1.15 or 18.31% to finish April 24th at a new all-time high of $7.43 per share.
On April 25th, NIA sent out an important TCAN update saying that, "TCAN may still have another $1.76 or 23.69% of upside left, but it won't hurt to begin taking profits immediately because at some point a major correction will occur."
TCAN peaked on April 25th at a new all-time high of $7.79 per share. At TCAN's April 25th peak of $7.79 per share, it had gained by 159.67% from NIA's March 8th suggestion price of $3 per share. During the seven week period of March 8th through April 25th, TCAN's gain of 159.67% made it the world's #2 largest gaining cannabis company!
Past performance is not an indicator of future returns. NIA is not an investment advisor and does not provide investment advice. Always do your own research and make your own investment decisions. This message is not a solicitation or recommendation to buy, sell, or hold securities. NIA has received compensation from a third-party ROK Marketing of $40,000 cash for a one-month TCAN investor relations contract. Never make investment decisions based on anything NIA says. This message is meant for informational and educational purposes only and does not provide investment advice.