NIA's ELY Ready to Surpass Key Breakout Point
Exactly two months ago, NIA suggested Ely Gold Royalties (TSXV: ELY) at $0.30 per share. Immediately afterwards, ELY made its largest three-day rally in history on its highest three-day volume in history! ELY made a rapid three day gain of $0.17 or 56.67% to a new 9 1/2 year high of $0.47 per share on total volume of 1,505,711 shares! ELY was the #1 largest gaining gold stock during this three-day time period!
When ELY hit $0.47 per share its relative strength index (RSI) surpassed 80, making the stock extremely overbought from a technical perspective. ELY was overdue for a healthy pullback and NIA has been watching ELY extremely closely in recent weeks, with a goal of accurately predicting the timing of ELY's next HUGE rally!
NIA has just upgraded its ELY confidence rating this evening to 98 out of 100, up from our initial confidence rating of 95 out of 100. On Tuesday, ELY showed major strength by rallying $0.03 or 9.375% to $0.35 per share on low volume of 52,449 shares. ELY has formed a bullish triangle pattern and is only $0.015 away from its key breakout point of $0.365 per share.
Based on the height of ELY's triangle pattern as shown in NIA's exclusive technical chart, when ELY breaks out of the triangle by surpassing $0.365 per share, it is likely to rally to $0.595 per share within the following two weeks! ELY currently has the strongest technicals out of all gold stocks along with rapidly improving fundamentals! Last quarter, ELY had the strongest profit margin in the entire gold industry!
ELY generated record quarterly revenue of CAD$1.161 million and was extremely profitable with net income of CAD$506,300 and normalized net income of CAD$600,000. ELY's normalized net income margin of 51.68% was ranked #1 in the gold industry ahead of companies like: #2 ranked Kirkland Lake Gold (KL), #3 ranked Franco-Nevada (FNV), and #6 ranked Royal Gold (RGLD)! These are three of the best managed gold mining/royalty companies in the world and each have market caps today of between $8.128-$17.07 BILLION! It is absolutely insane that ELY last quarter had MUCH higher profit margins than all three of them!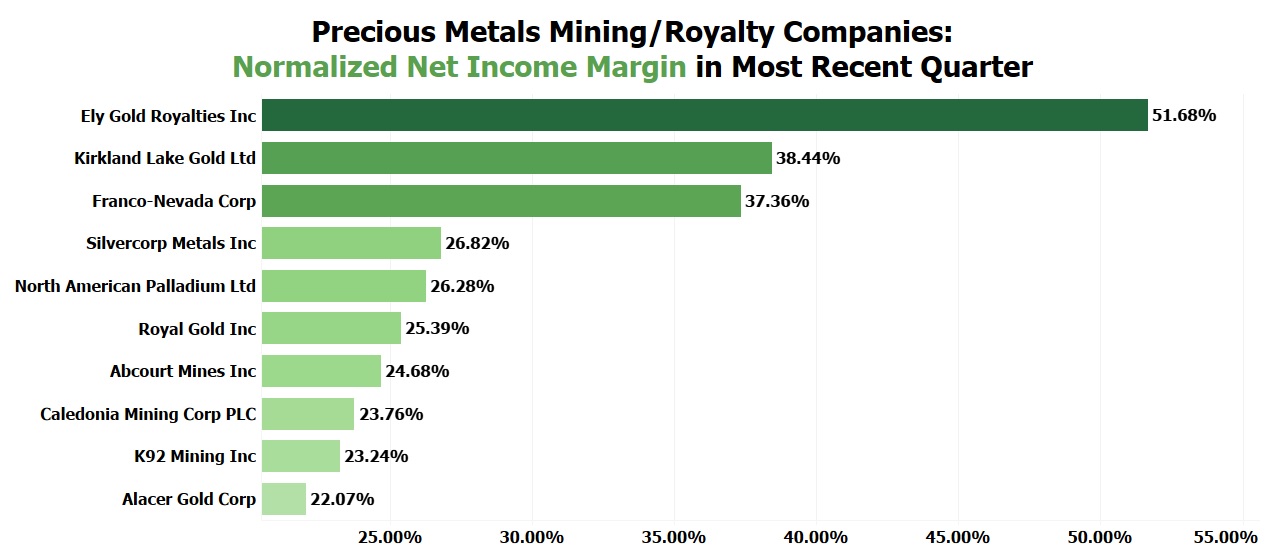 ELY is undoubtedly the best managed small-cap gold royalty play in the world today with a CEO who understands Wall Street, banking, and finance much better than other CEOs in the gold industry. He is committed to raising shareholder value with a focus on keeping the share count low and NIA is extremely confident that new 52-week highs of above $0.47 per share are coming very soon!
Past performance is not an indicator of future returns. NIA is not an investment advisor and does not provide investment advice. Always do your own research and make your own investment decisions. This message is not a solicitation or recommendation to buy, sell, or hold securities. NIA has received compensation from ELY of USD$30,000 cash for a six-month marketing contract. Never make investment decisions based on anything NIA says. This message is meant for informational and educational purposes only and does not provide investment advice.