ESN Surpasses Key Breakout Point!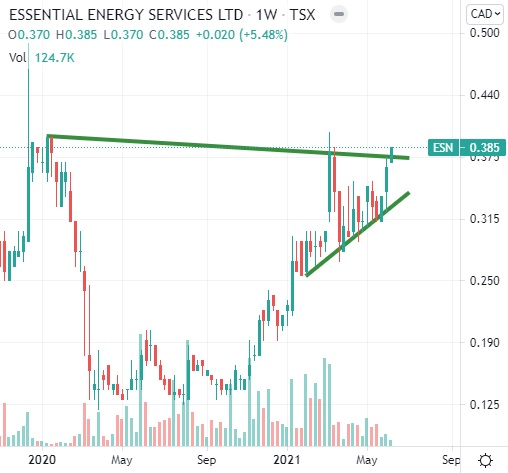 Out of every stock that NIA follows, our #1 favorite oil stock suggestion Essential Energy Services (TSX: ESN) is the most fundamentally undervalued company with GoldMoney (TSX: XAU) being a close second. Late on Friday afternoon, NIA sent out an important ESN update at $0.365 per share explaining that ESN was rapidly approaching its key breakout point of $0.38 per share and trading with an enterprise value of only 2.74X free cash flow. NIA went on to discuss how ESN's U.S. OTC symbol EEYUF was priced at only 0.00429X WTI Crude Oil. NIA explained how after EEYUF began trading in October 2011 it spent the following 88 straight months trading in a range of between 0.00792X and 0.03182X WTI Crude Oil.
ESN today gained by 5.48% to $0.385 per share! ESN is already up by 48.08% since NIA's initial suggestion on the morning of January 13th at $0.26 per share, but you have seen nothing yet!
ESN successfully surpassed and closed above its key breakout point of $0.38 per share!
At a very minimum, we look for ESN to rise to $0.66 per share in the short-term, which would value EEYUF at 0.00792X WTI Crude Oil the very bottom of its historical trading range!
Past performance is not an indicator of future returns. NIA is not an investment advisor and does not provide investment advice. Always do your own research and make your own investment decisions. This message is not a solicitation or recommendation to buy, sell, or hold securities. NIA's President has purchased 45,000 shares of XAU in the open market. He intends to sell these shares in the future for a profit and can sell them at any time without notice. This message is meant for informational and educational purposes only and does not provide investment advice.