NIA Updates Top 30 Picks of All-Time Rankings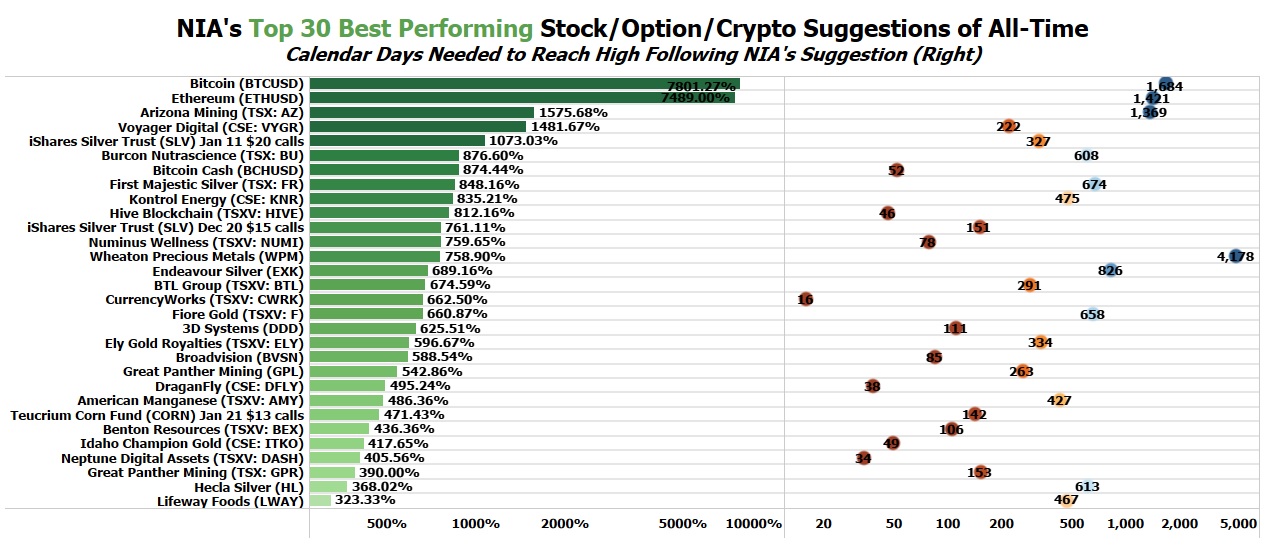 NIA has just updated its Top 30 Best Performing Stock/Option/Crypto suggestions of all-time rankings!
After their huge gains achieved on Monday, both DraganFly (CSE: DFLY) and American Manganese (TSXV: AMY) now officially rank among our Top 30 Best Performing Stock/Option/Crypto suggestions of all-time! From the very first day we suggested DFLY and AMY as our #1 favorite technology stocks for the years 2021 and 2020, respectively, we always knew with 100% certainty that they would become among our largest gainers in history. What these two companies have in common are high quality management especially their CEOs who are hardworking, innovative, persistent, honest, transparent, humble, and have a lot of integrity. These traits are extremely rare among today's world of small-cap stocks. Today, there are too many CEOs who are always trying to jump on the bandwagon of the "new big thing" only to give up when that industry becomes temporarily out of favor and isn't "in play" anymore.
DFLY has undoubtedly become the #1 most innovative and disruptive publicly traded drone technology company in North America while AMY is without a doubt the #1 highest quality publicly traded EV battery recycling technology pure play in North America!
Click here to see DFLY's large portfolio of U.S. drone technology patents and you will see that they began filing patent applications in 2008 when nobody knew what a drone was!
Click here to see AMY's most valuable U.S. patent covering the recycling of cathode materials from lithium ion batteries, which it filed for back in 2016 well before the current EV boom at a time when there were practically no EV batteries needing to be recycled!
Past performance is not an indicator of future returns. NIA is not an investment advisor and does not provide investment advice. Always do your own research and make your own investment decisions. This message is not a solicitation or recommendation to buy, sell, or hold securities. NIA has received compensation from DFLY of USD$30,000 cash for a six-month marketing contract. NIA previously received compensation from AMY of USD$30,000 cash for a marketing contract which has since expired. This message is meant for informational and educational purposes only and does not provide investment advice.