Platinum and Palladium Making Largest Breakout in History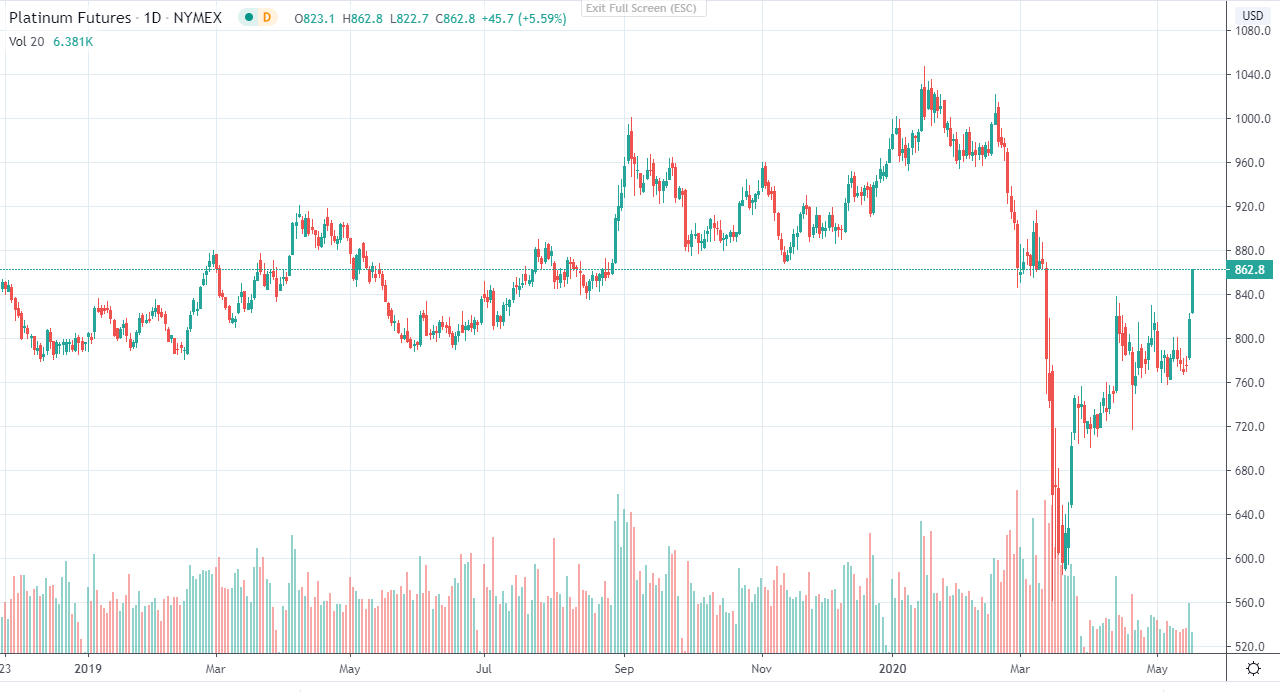 Platinum and palladium are making one of their largest breakouts in history this morning! Platinum is up by $45.70 or 5.59% to $862.80 per oz while palladium is up by $143.68 or 7.62% to $2,028.70 per oz!
Clean Air Metals (TSXV: AIR) completed its reverse takeover transaction of the Thunder Bay North and Escape Lake high-grade platinum/palladium projects last week and is expected to begin trading in the days ahead! The timing couldn't be any more perfect... we expect AIR to become the #1 hottest IPO of 2020 similar to how our Hive Blockchain (TSXV: HIVE) was the #1 hottest IPO of 2017!
Benton Resources (TSXV: BEX) as the largest shareholder of AIR provides such an amazing opportunity to capitalize on AIR ahead of time! We just named BEX our #1 overall mid-year pick at $0.10 per share and it finished last week up to $0.115 per share. Besides owning 24,615,884 shares of AIR, BEX also owns a 0.50% NSR royalty covering AIR's entire project... and AIR will be launching a major drilling campaign in the weeks ahead! (BEX owns countless additional assets including cash, stock in public companies, royalties, and about a dozen mining projects.)
AIR's initial drilling campaign will focus on the Escape Lake zone where Rio Tinto's 2011 drill hole 11CL0005 intercepted 2.48 g/t palladium, 1.92 g/t platinum, 0.36% nickel, and 0.89% copper over 40.67m! In addition, Rio's drill hole 11CL0007 intercepted 2.74 g/t palladium, 2.1 g/t platinum, 0.49% nickel, and 0.92% copper over 39.72m! In addition, Rio's drill hole 11CL0008 intercepted 3.31 g/t palladium, 2.64 g/t platinum, 0.41% nickel, and 1.13% copper over 39.4m!
During the following year of 2012, Rio Tinto's drill hole 12CL0009 intercepted 4.08 g/t palladium, 3.01 g/t platinum, 0.77% nickel, and 1.49% copper over 33.39m! In addition, Rio's drill hole 12CL0012 intercepted 1.81 g/t palladium, 1.41 g/t platinum, 0.39% nickel, and 0.69% copper over 50.75m!
AIR has put together an all-star management team including its Executive Chairman Jim Gallagher who was CEO of North American Palladium in December 2019 when it sold for $1 billion! While BEX is the #1 largest AIR shareholder... the #2 largest AIR shareholder is legendary billionaire mining investor Eric Sprott!
Past performance is not an indicator of future returns. NIA is not an investment advisor and does not provide investment advice. Always do your own research and make your own investment decisions. This message is not a solicitation or recommendation to buy, sell, or hold securities. NIA's President has purchased 1.05 million shares of BEX in the open market. He intends to buy additional BEX shares prior to Clean Air Metals going public. Sometime after Clean Air Metals goes public he intends to sell his BEX shares for a profit. This message is meant for informational and educational purposes only and does not provide investment advice.