Tesla Hits $939 Up 20% Today After Gaining 20% Yesterday!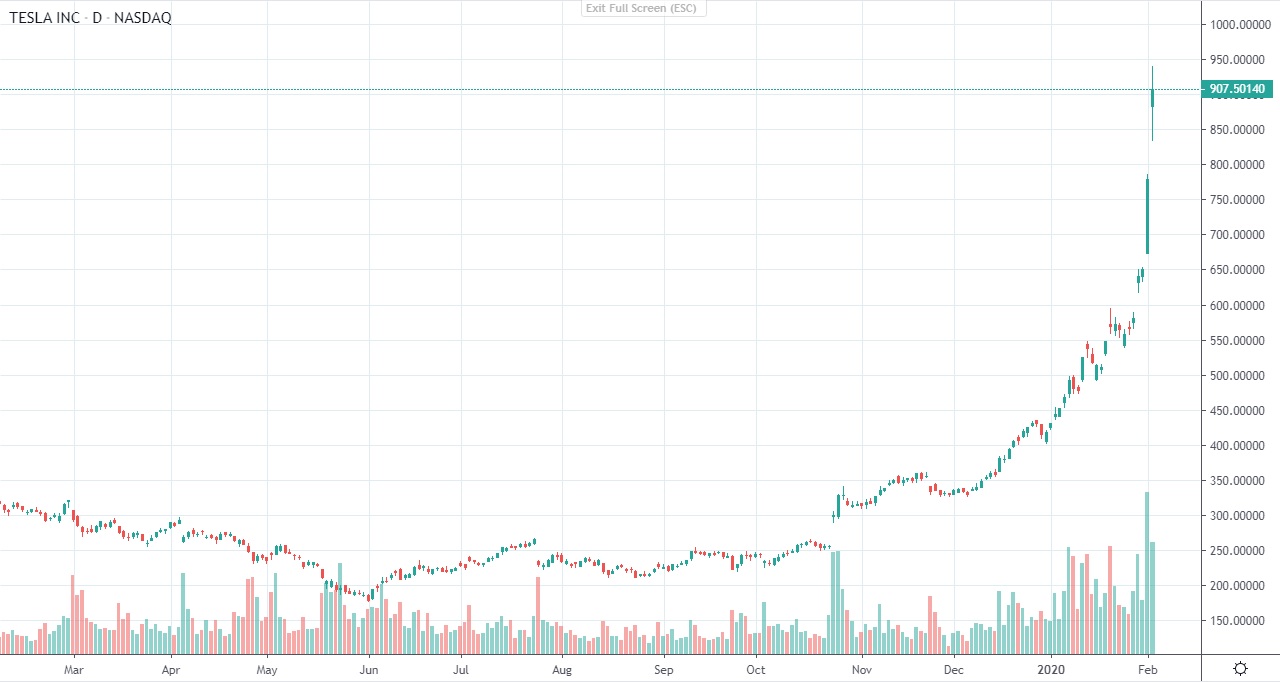 Tesla (TSLA) just hit a new all-time high this morning of $939.92 per share up $159.92 or 20.5% from its Monday closing price of $780 per share! On Monday, TSLA gained by $129.43 or 19.89% from its Friday closing price of $650.57 per share! TSLA has gained by $289.35 or 44.48% over the last two trading days!
After finishing 2019 at only $418.33 per share, TSLA began 2020 by making an initial four-week gain of $139.69 or 33.39% to close Monday, January 27th at $558.02 per share! On Tuesday of last week, TSLA began to gain major momentum! Between Tuesday and Friday of last week, TSLA rallied by $92.55 or 16.59% to finish last week at $650.57 per share!
In recent days, TSLA's gains have gone parabolic and the stock is now up year-to-date by a total of $521.59 or 124.68%!
TSLA began selling its Model S in 2012. TSLA's 8-year warranty on their EV batteries... produced in partnership with Panasonic (PCRFY), will begin to expire this year for Tesla's original Model S customers! Later this year, TSLA and PCRFY for the very first time in history will begin to receive back thousands of spent lithium-ion battery cells!
Shares of Panasonic (PCRFY) are also beginning to explode! Today alone, PCRFY is up by $0.94 or 8.86% to $11.55 per share! After finishing 2019 at $9.41 per share, PCRFY is now up by a stunning 22.74% year-to-date in 2020!
Besides TSLA and PCRFY, the only other Tier 1 EV Battery producers are Samsung SDI (KRX: 006400) and LG Chem (KRX: 051910). Samsung SDI is up by ₩24,000 or 8.45% today to ₩308,000 per share and is now up by a stunning 30.5% year-to-date in 2020! LG Chem is up by ₩29,500 or 8.43% today to ₩379,500 per share and is now up by a stunning 19.53% year-to-date in 2020!
The combined market cap of the Big 4 EV Battery producers: Tesla, Panasonic, Samsung SDI, and LG Chem finished 2019 at $125 billion. Currently, we are only 5 weeks in 2020 and already their combined market cap has increased by $103 billion or 82.4% to $228 billion! Between now and year-end we expect all four companies to invest big into EV Battery Recycling technologies.
We expect the recycling of EV Batteries to become one of the most talked about issues in the mainstream media leading up to the 2020 U.S. Presidential election. China's Ministry of Industry and Information Technology has recently set new regulations requiring that electric vehicle batteries being recycled must achieve recoveries of 98% nickel, cobalt and manganese and 85% lithium. We are only aware of one single publicly traded company with patented EV Battery Recycling technologies that are already reaching China's extremely strict mandates!
Practically every other EV Battery Recycling company uses smelting, which only returns about 50-60% of the Cobalt and very little of the other metals with no recovery of lithium.
Past performance is not an indicator of future returns. NIA is not an investment advisor and does not provide investment advice. Always do your own research and make your own investment decisions. This message is not a solicitation or recommendation to buy, sell, or hold securities. Never make investment decisions based on anything NIA says. This message is meant for informational and educational purposes only and does not provide investment advice.