BYND Switching to Rice Protein
The world's #1 plant-based meat leader Beyond Meat (BYND) has just reintroduced its Beyond Burger with the package stating, "NEW! NOW EVEN MEATIER!" The major change is the addition of rice protein! BYND quietly added rice protein to its #1 best selling product to create a juicier more realistic plant-based hamburger at a lower cost without risk of pea protein shortages!
BYND has also just launched Beyond Beef, which is plant-based ground beef containing rice protein!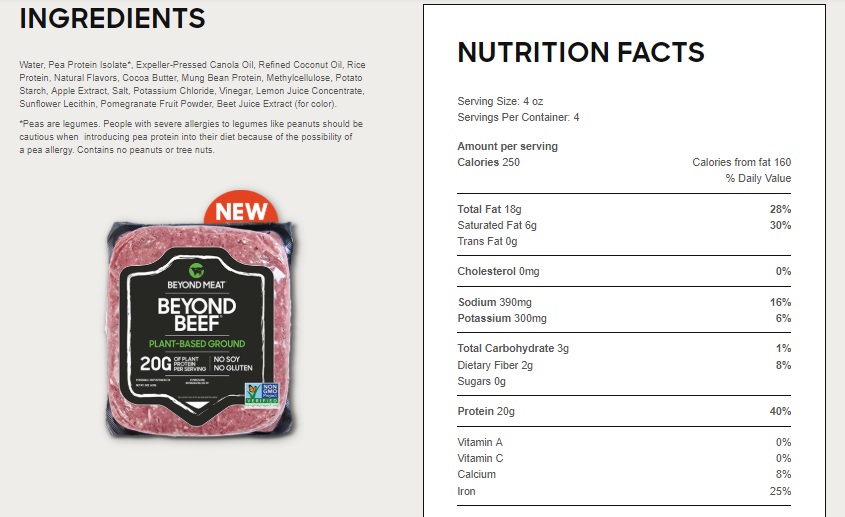 If BYND gets a positive response to its recent product improvements by adding rice protein, there's a chance BYND could go all in on rice protein considering the countless advantages over pea and soy proteins. If this happens, Ricebran Technologies (RIBT) as the world leader in rice protein extraction technologies could become our biggest winner in history!
There MUST be a reason Continental Grain Company has just invested another $5 MILLION into RIBT, thereby increasing their stake to nearly 22% - a position so large it required RIBT shareholder approval (which it overwhelmingly received)!
There MUST be a reason Continental Grain Company's Senior Vice President and Head of Corporate Investments Ari David Gendason recently began buying big in the open market for himself. In the last 30 days alone Ari purchased an additional 8,100 shares of RIBT on the open market and now personally owns 111,494 shares.
There MUST be a reason the world's foremost expert on plant-based proteins Henk Hoogenkamp just purchased another 2,000 RIBT shares last month and now owns 165,349 shares. He wrote books predicting the current plant-based meat boom back in 2010 and has played a major role in helping RIBT develop its market leading rice protein products/technology!
There MUST be a reason Henk Hoogenkamp is wearing the shirt he chose to wear on the home page of his personal web site!
Oh by the way, click here to visit the History and Heritage page of Continental Grain Company's web site. If you scroll down to CGC Today you will see the following, "Continental Grain continues to focus on building businesses that can deliver innovation, high performance, and long-term value creation in the food and agriculture sectors. Recent venture capital investments in sustainable food technology include Impossible Foods, creator of a "meaty" tasting plant-based burger!"
Past performance is not an indicator of future returns. NIA is not an investment advisor and does not provide investment advice. Always do your own research and make your own investment decisions. This message is not a solicitation or recommendation to buy, sell, or hold securities. Never make investment decisions based on anything NIA says. This message is meant for informational and educational purposes only and does not provide investment advice.