NIA Announces New Plant-Based Protein Play!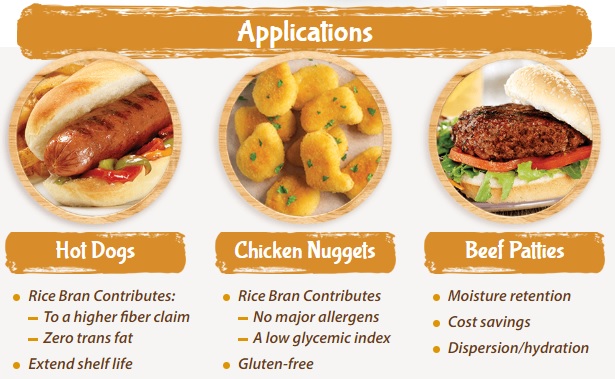 NIA is excited to announce its #3 favorite overall stock suggestion... Ricebran Technologies (RIBT), currently trading on the NASDAQ for $2.90 per share. RIBT is NIA's latest plant-based protein play!
Beyond Meat (BYND) CEO Ethan Brown was recently quoted as saying, "Pea protein is an amazing resource for us, it works well, but there's nothing particularly special about it. If you think about the plant kingdom, there are so many other stocks we can use — mung bean, brown rice, mustard seed, lentils. We will have a much more diverse bench of proteins."
RIBT has developed technology for extracting protein from rice for use in meat products. Click here to see for yourself!
RIBT's ricebran protein products for meat are free of GMOs, soy, and gluten just like the pea protein used by BYND and NIA's #2 favorite overall stock suggestion: Lifeway Foods (LWAY). BYND went public in a May 2nd IPO at an initial price of $25 per share and quickly rose to a June 18th all-time high of $201.88 per share for a gain of 707.52% from its IPO price in only six weeks.
On May 24th, NIA announced Burcon Nutrascience (TSX: BU) as its #1 pea protein play at $0.80 per share and it quickly made a gain of 146.25% to a high of $1.97 per share in only three trading days! BU last week closed on an oversubscribed rights offering raising $15,429,121. Including the rights offering, which allowed BU shareholders to purchase an additional share at $0.35 for each share owned, the adjusted cost per share for NIA members who entered on May 24th at $0.80 per share and still hold their shares is now down to $0.575 per share.
On June 7th, NIA announced Lifeway Foods (LWAY) at $2.10 per share as its new pea protein stock suggestion. On June 17th with LWAY already up 20% to $2.52 per share, NIA released Part 1 of its Top 5 Stock Suggestions report, ranking LWAY #2 with a near perfect confidence rating of 95. Over the following three days, LWAY gained an additional 88.49% to a high of $4.75 per share. At LWAY's June 20th high of $4.75 per share, the stock had gained by 126.19% from NIA's initial suggestion in less than two weeks!
Incredibly, over the last six weeks, NIA was the first and only organization in the world to successfully discover and suggest what became the two biggest pea protein plays in the entire market! BU and LWAY achieved an average gain of 136.22% in an average of 7 trading days!
We are giving RIBT a very high confidence rating of 90 out of 100 and strongly believe it will become the market's next MAJOR plant-based protein play! Tonight we will be discussing how RIBT's largest shareholder is the major investor behind Impossible Foods, the latest plant-based meat unicorn that will have its IPO later this year and will likely be worth countless BILLIONS!
We are nearly 100% sure that LWAY will reach new 52-week highs in the near-future! We will be releasing a major LWAY update later this week comparing its extremely low valuation to the latest implied valuation of new plant-based dairy start-up Ripple (a private company)!
The only stock that NIA ranked higher than LWAY in Part 1 of its Top 5 Stock Suggestions report was Fiore Gold (TSXV: F) at a price of $0.375 per share with a perfect confidence rating of 100. Fiore Gold (TSXV: F) gained by 30.67% over the following seven trading days to a June 25th high of $0.49 per share on total volume of 1.54 MILLION shares or 2.53X its trailing twelve month average seven day trading volume of 607,819 shares. At its June 25th high of $0.49 per share, Fiore Gold had gained by 113.04% since NIA initially announced the company as its #1 stock suggestion for 2019 on November 22nd at $0.23 per share.
Amazingly, NIA's #1 stock suggestion for the previous year of 2018, QIWI Plc (QIWI) hit a new two-year high last week of $20.90 per share for a gain of 49.5% from NIA's December 28, 2017 suggestion price of $13.98 per share. Keep in mind, December 2017 is when Bitcoin hit its record high of $20,000 and everybody was demanding that we announce a blockchain stock as our #1 pick for 2018. When NIA announced QIWI on December 28th, its average daily volume for the previous three weeks was only 276,653 shares. Following NIA's December 28th announcement, QIWI immediately gained by $1.24 or 8.87% to $15.22 per share on volume of 2,212,000 shares or 8X its average daily volume! The next day after NIA released its in-depth QIWI report, it gained another $2.11 or 13.86% to $17.33 per share on volume of 4,914,100 shares or 17.76X its average daily volume! On the following trading day, QIWI gained another $0.97 or 5.6% to a high of $18.30 per share on volume of 2,683,400 shares or 9.7X its average daily volume!
In just the first three trading days, QIWI gained by $4.32 or 30.9% to a high of $18.30 per share on total three-day volume of 9,809,500 shares, which was 11.82X QIWI's average three-day volume of 829,960 shares! QIWI's total dollar volume exceeded $160 MILLION in three days! NIA had simultaneously suggested QIWI $15 February 2018 call options at $1 as its #1 option suggestion for 2018 and they reached a January 23, 2018 high of $3.80 for a gain of 280% in less than one month!
Past performance is not an indicator of future returns. NIA is not an investment advisor and does not provide investment advice. Always do your own research and make your own investment decisions. This message is not a solicitation or recommendation to buy, sell, or hold securities. NIA has purchased 10,000 shares of LWAY and intends to sell for a profit in the future. Never make investment decisions based on anything NIA says. This message is meant for informational and educational purposes only and does not provide investment advice.